Berlin is a city packed with beauty, cultural charm and history. Walking around the German capital is an absolute pleasure and it's quite easy to find beautiful spots wherever you go.
If you are one of those travelers who love taking loads of pictures and share them on Instagram, like we do, here you will find some useful suggestion on how to make your Instagram feed absolutely unmissable by taking impressive shots and tell the world "I was there!"
The list of not-to-be-missed places in the area is quite huge, but we aim to help you finding the best of Berlin and get inspired by the beauty around you.
In this post we are going to narrow down our list to the 8 top instagrammable places in Berlin that you (and your camera) will love at first sight.
Don't worry about the weather, It doesn't matter if it's going to be sunny or cloudy and rainy, you will be able to picture charming sights anyway and inspire different moods in your followers. Plus, many photographers agree on clouds being essential for taking a good picture, as they capture and diffuse the natural light creating a unique atmosphere.
Here goes our list of insta-worthy and insta-perfect places in Berlin along with few tips to snapping the perfect shot to share on Instagram online:
1 - The Brandenburg Gate
This is probably the most famous attraction and a true landmark of Berlin reminding the world about the city's magnificent history. Whether you are looking for picturing the best of Berlin or you are more focused on finding original and unique sights in the city, either way you cannot miss the chance to snap some shot at the Brandenburg gate.
Being one of the most visited places in Berlin, the Brandenburg Gate it's not the easiest subject to capture with your phone or camera and that's because it is constantly surrounded by many people during the day.
Tip - How can we avoid the crowd and still bring home an impressive shot? Easy! Try to snap it from the back. You won't get the front of the statue but you will still picture the magnificent columns. You can get a good angle also from the side of the gate. Seeing is believing!
Location: Pariser Platz, 10117 Berlin, Germany.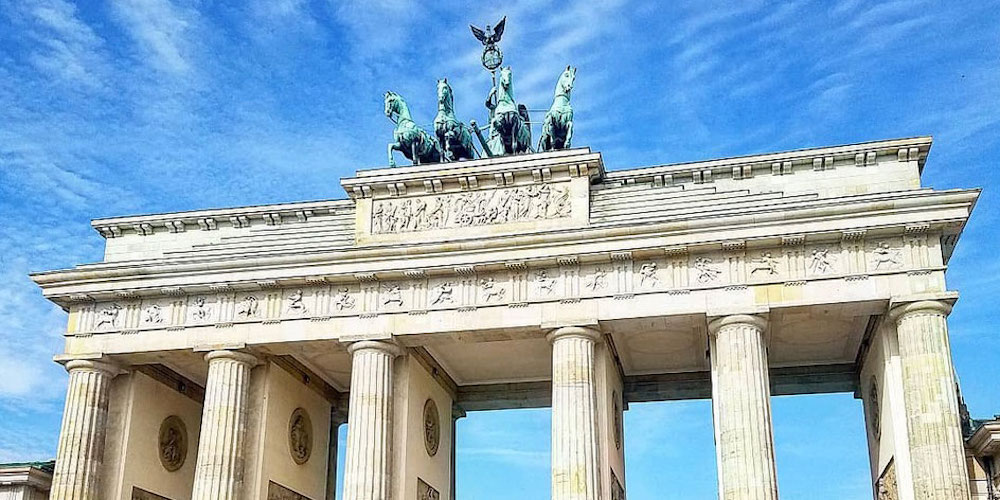 Credits photo @myredsuitcase on Instagram
2 - East Side Gallery
Not far from our Plus Hostel in Berlin there is another not-to-be-missed insta-place for your social feed. East side Gallery is the largest open air art gallery in the city and displays iconic mural paintings drawn on the 1316 meters long remnant of the original Berlin Wall.
The most famous mural paintings like "My God, Help Me Survive This Deadly Love" by Dmitri Vrubel or Thierry Noir's eye-popping "Some Headswill" can be especially request for pictures, but you can find so many instagrammable spots between the 101 paintings comprising the gallery.
Tip - You can expect many people here too, including big groups attending an art tour, but you can take the most out of the time you will spend queuing by deciding what to photograph and how to create your snaps.
Why not including in your shooting plan some creative picture showing one of the many meaningful slogans along the wall?
"Many small people, who in many small places, do many small things, can alter the face of the world" mural, is definitely one of the most impressive (and photogenic) graffiti in the gallery.
Location: Mühlenstraße 3-100, 10243 Berlin, Germany.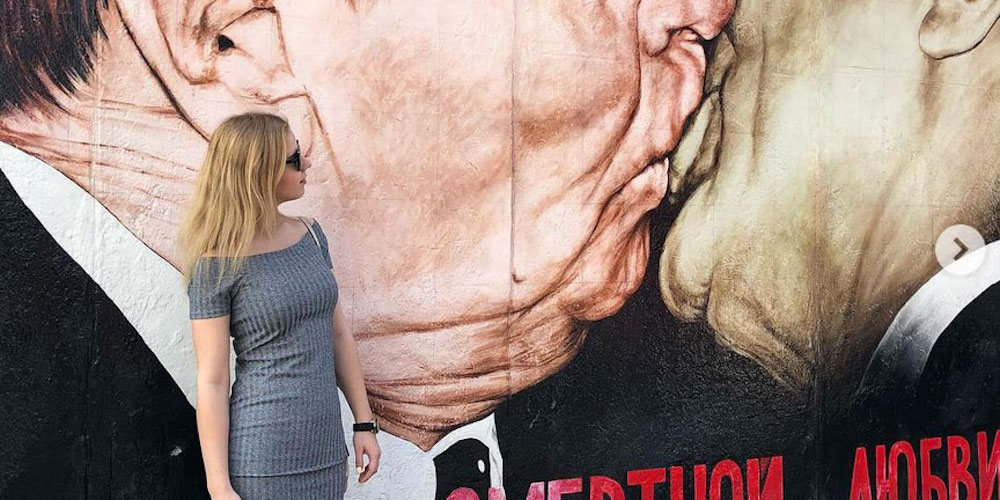 3 - Alexanderplatz
Whit more than 360.000 visitors a day, Alexanderplatz is one of the main public squares, transport and commercial hubs in Berlin.
The Fernsehturm (or TV-Tower) can be seen from almost every location in the capital and houses an impressive view point at 204 meters, while the Urania Weltzeituhr (also know as the World Clock) displays all the 24 time zones on Earth.
Tip - Stand right in front of the clock tower and take a lovely panoramic picture of the place.
Location: Alexanderstraße 3 10178 Berlin, Germany.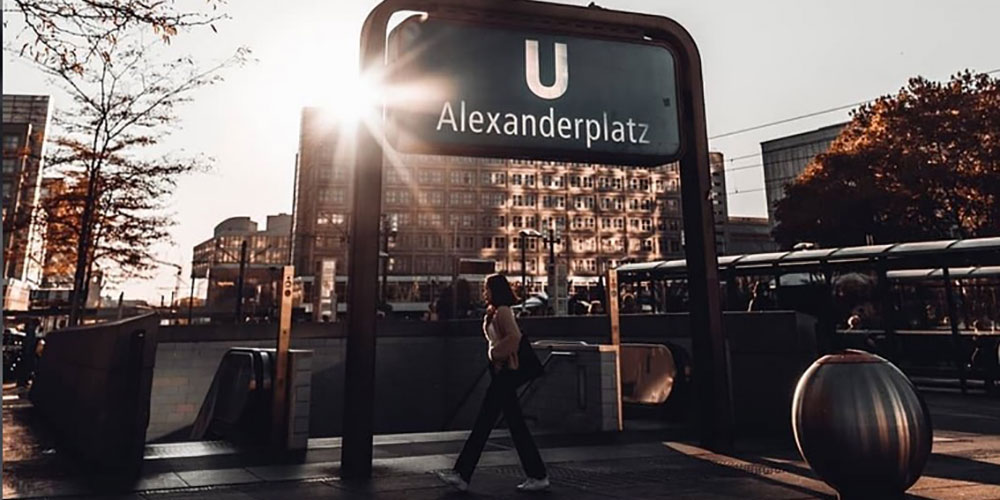 credits photo @berliner_fernsehturm su Instagram
4 - Checkpoint Charlie 
Another important piece of the German history is just one picture away. Checkpoint Charlie is now standing on the same spot as the original one, which was one of the main American military stronghold in the city during the Cold War.
The actors dressed up as soldiers taking pictures with tourists for 3€ might make this place quite "touristy", but this attraction is so full of history that it's still worth including it in your Instagram online photos.
Tip - do not sneak away from the actors after taking pictures without paying the fee, you could make them very upset!
Location: Friedrichstraße 43-45, 10117 Berlin, Germany.
5 - Markthalle Neun 
What is an Instagram feed without any food picture? The Markthalle Neun (Market Hall Nine in English) will surely be a feast to your eyes and a treat too your travel buds.
Get wild and try some fusion cuisine like Kimchi burger or Indonesian-Dutch Gado-gado… and don't forget to take as many pictures as you can before feeding yourself to some international or German treat!
Location: Spandauer Damm 20-24, 14059 Berlin, Germany.
6 - Molecule man
These impressive aluminum sculptured men hugging each other represent a strong symbol of peace for the capital and can be surely mentioned as part of the best of Berlin. Molecule Man is a series of pieces of art designed by the American artist Jonathan Borofsky and installed in many cities around the world. Here the bodies of the 3 men are filled with holes representing the "human molecules coming together to create one whole existence".
Tip - get on top of the nearby Oberbaumbrücke bridge to get the best angle for a insta-picture.
Location: An den Treptowers 1, 12435 Berlin, Germany.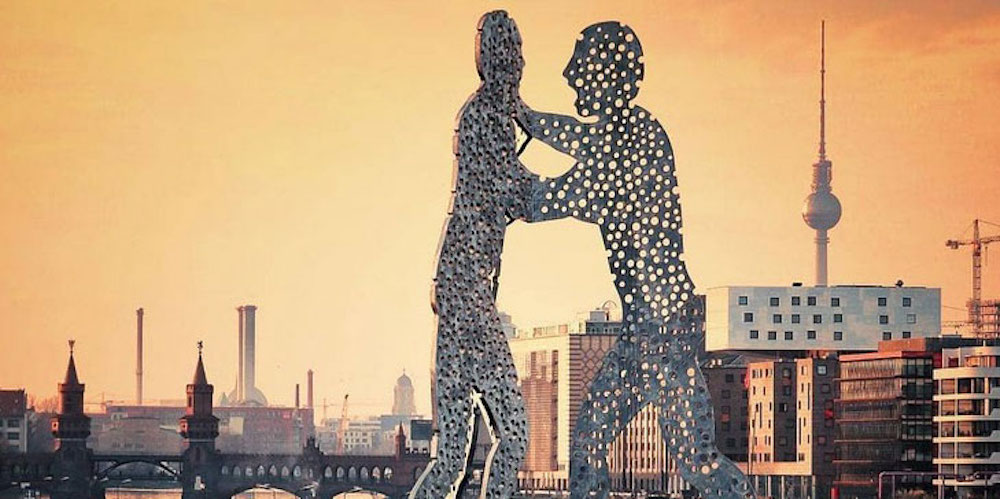 credits photo @greta9999 su Instagram 
7 - Reichstag Dome
Architecture snapshots are definitely among the most instagrammable kind of pictures and Berlin offers many impressive sights for it. This modern glass dome, constructed on top of the rebuilt Reichstag building, it's definitely one of the many suggestive architecture spots in Berlin.
The futuristic dome is energy-efficient and its position on top of the debating chamber of the German parliament emphasizes a unified Germany, showing every day to the public that today people are above any government - in contrast to the nations heavy past.
Tip - if you couldn't pre-book your ticket you can go there in the early morning and ask for any available spot left. Being there at 8.00 am it will help you getting in!
Location: Platz der Republik 1, 11011 Berlin, Germany.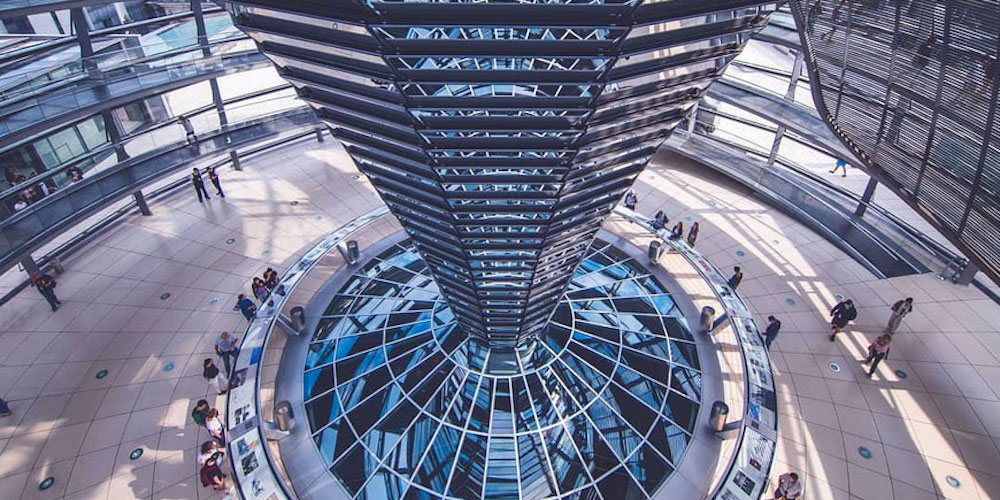 Credits @michaelolatunji on Instagram
 
8 - Spreepark
Spreepark is an abandoned amusement park located in the Treptow-Köpenick district and it's surely one of the most impressive places in Berlin. It's been closed to the public since 2002 and it's now a decadent one-of-a-kind location that could feel a bit spooky, but it's definitely one of the best instagrammable spots you can find in Berlin.
Location: Kiehnwerderallee 1-3, 12437 Berlin, Germany.