There is something magical about summer in Berlin. The city uncovers its most lively and colorful self and welcome thousands of visitors with a full program of events including festivals, concerts, exhibitions and much more.
Whether you are looking for a culture break from your daily routine or an outdoor adventure with your friends and family, or you just want to relax, have some fun and enjoy the Berlin vibes, here you will have plenty of options to choose from and you'll surely get the inspiration you need to decide what to do in Berlin.
When the sun hits the capital and the weather gets warmer most Berliners and many tourists rather enjoy their time outside: outdoor cafes, beer gardens, lakes, pools, parks and beach bars (oh yes, beach bars) are among the best places where to enjoy a cold drink, listen to some music and soak in the beautiful local sceneries.
We put some thoughts into it and collected some great tips for your bucket-list while you are in town, so here the best things to do in Berlin in summertime.
What to do in Berlin on a sunny day
Weather in Berlin can be quite cold and rainy for many months of the year, with sub-zero temperatures and snow during the winter. Although Berlin in winter season is absolutely charming and very lively, in summertime people seem to get happier and smile more while enjoying the sun and the many activities offered in the city.
That's why if you visit Germany during this time of the year and decide to spend your days outdoor, you will have plenty of company.
If you want to do what locals do and experience the real summer in Berlin, we would like to recommend you to visit some of the many parks and lake fronts in the area.
Tiergarten is surely the biggest and one of the most famous parks in the city and it's conveniently located in the same-name neighborhood in the city center.
Here you can opt to visit the popular Zoo Berlin, which is one of the oldest zoological garden in the world, besides being famous all over the world thanks to Zoo Station: The Story of Christiane F. book and the following Christiane F. movie.
If you are not a zoo person you can still enjoy your time in this huge park, which represents what Hyde Park means to London and Central Park means to New York City.
Have a stroll around at your pace and relax in this peaceful environment, savor a picnic in the inner-city nature or opt for a bike tour and ride the park up and down on two wheels.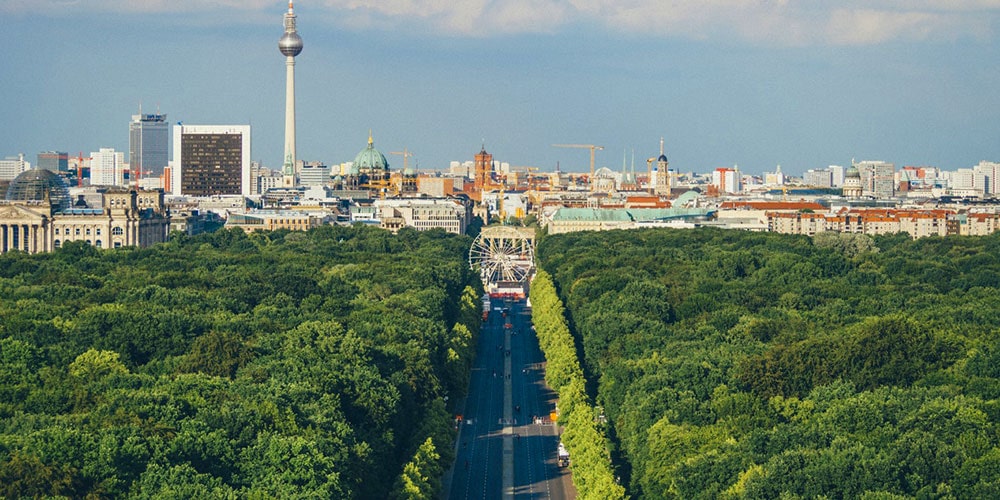 Inside Tiergarten Park
Inside the Tiergarten park there are also few tourist attractions like Siegessäule - the Berlin Victory column - also known under the nickname of Goldelse (which means something like Golden Lizzie). This commemorative monument, designed after 1864 by Heinrich Strack to celebrate the Prussian victory in the Danish-Prussia war.
Tiergarten park hosts also the Haus der Kulturen der Welt (House of the World's Cultures), one of the main hubs for contemporary art in the country hosting exhibitions, visual art shows, concerts, theatre and dance performances, with a special focus on non-European cultures.
The typical Berlin popular humor, so common among locals, made Berliners nickname all the main buildings and most important sights in the city. The Haus der Kulturen der Welt was not left behind and it's been renamed as Die schwangere Auster ("The pregnant Oyster").
In front of the main entrance of this international arts center lays an impressive bronze sculpture surrounded by a circular basin. Designed by Henry Moore right before his dead, it's considered one of the many lovely instagrammable spots in Berlin.
Next to the House of World's Culture there is the curious Carillon Tower, a freestanding 42 meters tower located in the north east side of Tiergarten park. Its name is given by a huge carillon, a real concert instrument played manually by a carillonneur who sits in a playing cabin between the 68 bells comprising the carillon.
Things to do in Berlin: the best summer spots
The German capital boasts many other beautiful parks where to enjoy a day out during the summer in Berlin. Here goes a list of the most beautiful green areas in the city:
Görlitzer Park
Treptower
Viktoria Park
Templehof 
You just need to choose from our list, get some drinks and snacks from a nearby Späti (the German version of a British off license or an American convenience store) and head to your favorite park.
If you are looking for some great place off the tourist track, we recommend you to visit the unique Gärten der Welt (Gardens of the World), an impressive landscaping site reproducing different gardens from all over the world. Covering a 43 hectares area, this place offers a mix of contemporary garden designs covering all the five continents, from Asia to South America, Europe and Africa.
Beach bars, rooftop bars and outdoor parties
After wandering at the best green spots in Berlin, it's time to get your groove on and head to one of the many outdoor bars boasting gorgeous city views. Open-air parties are now a whole thing and the capital offers a rich events program every summer. 
Head to S-Bahn station (Treptower Park), walk just few minutes towards Kreuzberg and check out Club der Visionäre, MS Hoppetosse or Badeschiff for some of the best music in town, an international vibe and great drinks.
For an extra-summery feeling why not heading to one of the countless beach bars in Berlin? Strandbar Mitte and Strandbar Sage beach are an absolute blast, but you can easily find any sort of beach bar in the city area of your choice.
If breathtaking sunset views are your thing, we recommend you to pay a visit to Parkdeck 4 in Schönhauser Allee or Klunkerkranich in Neukölln, a real local gem offering cheap (and grea) drinks and lovely food surrounded by stylish urban gardens. Last but not least, get the cherry on top of the cake and check out the impressive rooftop of the legendary Soho House.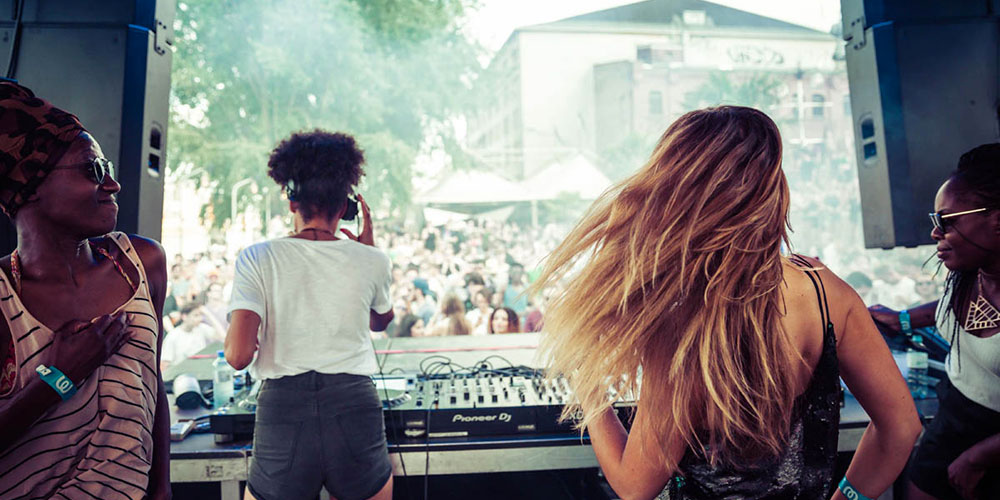 Credits photo: Water-gate.de