The City of Florence, also known by the Italian name of Firenze, it's surely one of the top tourist destinations in Italy. Known all over the world for being the Cradle of Renaissance, the city's timeless beauty it's undeniable and its  panoramic setting, along with the historic heritage and great food, attracts millions of people from all over the world.
The relaxed daily lifestyle and the impressive nature around the city could lead unknowing people to think that this area has not much to offer when the sun goes down.
That is very far from reality. Florence knows how to party and the city boasts a vibrant nightlife.
Are you wondering what are the best things to do in Florence at night? Then you better sit down and take your time to read this post, because the list is quite long. From wine bars to clubs, from music venues to cocktail bars and  great restaurants, the capital of Tuscany region has plenty of options for everyone.
Whether you are ready for a wild night out or looking for a relaxing evening with your travel buddies, the local night scene will not disappoint you.
Each area of Florence center has its own soul and getting to see different facets of the same place is one of the best parts of the journey.
After spending the day discovering the many wonders of the city (in this regard, here goes our guide about what to do in Florence in 1 day, you can check out the following areas in the evening: 
Santa Croce district
Santa Croce is an iconic area of Florence and it's considered the heart of the nightlife in the city.
The popular Via de' Benci - which is the street connecting Arno riverside to Santa Croce square (and its continuation Via Verdi) branch out into the adjacent streets full of bars, restaurants and pubs. Here you can find crowds of American students (Florence is one of most wanted study-abroad city of the globe), tourists from any continent and, of course, local people.
Via Fiesolana and the neighboring via De' Neri and Borgo Santa Croce are packed with amazing wine bars where to taste heaven-sent local wines and any sort of locales where you can dance the night away and go out European-style.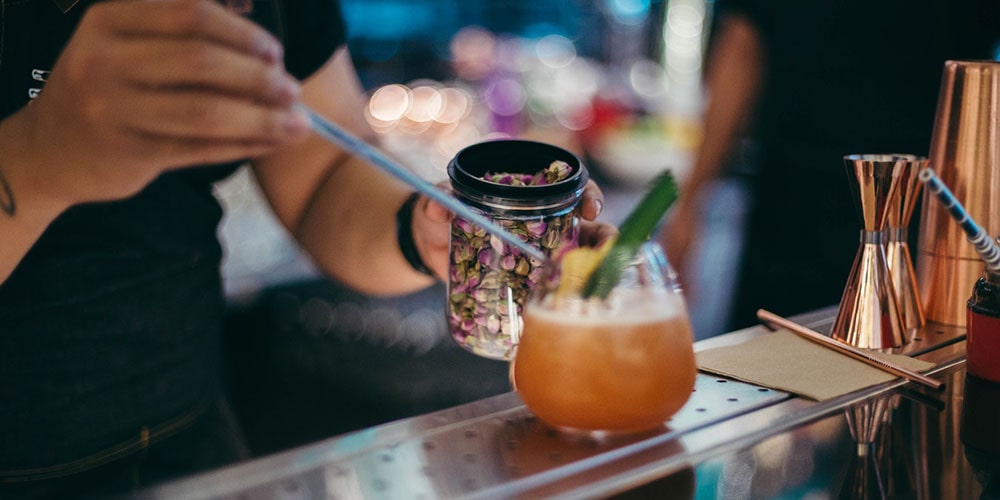 Here a list of not to be missed places in Santa Croce area:
• Mojo: here you can experience an authentic aperitivo Italian-style.
• Viktoria Lounge Bar: their cocktails list makes this place worth a visit.
• Fuk: great cocktails in a laid back atmosphere.
• Rex: for a less touristy night experience.
• Red Garter: grab a succulent burger and sing your night away with the local karaoke.
• Ditta Artigianale: try their Moscow Mule… you are welcome.
• Il Locale: if you are looking for a classy cocktail bar you cannot miss this one. Drinks are quite expensive but their winter garden will send you straight to Heaven.
If you would like to enjoy your drink while nibbling on some tasty food, we recommend you to pay a visit to one of these wine bars located in Via de' Neri:
• La Prosciutteria: Italian prosciutto, mouth watering cheese and other local delicacies will tempt you to come back here again and again.
• Antico Vinaio: traditional wine bar with an informal and laid back atmosphere. Tasting their self-service wine it's a once in a lifetime experience!
• Budellino: here you can try the iconic Lampredotto sandwich, a popular Florentine street food dish made from the fourth and final stomach of a cow (leave your prejudice at home and give it a try, it's well worth it).
Santo Spirito district
Typical aperitivo drinks in Firenze are the Florence-born Negroni - a bitter mix of red vermouth, gin and Campari served with ice and a slice of orange - the cheeky Aperol Spritz which is now know internationally or the fizzy Americano. It is possible to taste them all over the city and Santo Spirito district, in Florence center, it's one of the best area where to experience the Italian way of drinking.
Of course, nothing stops you from ordering a glass of Prosecco (the popular Italian Champagne), a refreshing draft beer, your favorite cocktail or a non-alcoholic beverage.
Get your drinks and nibbles at the charming Volume bar and restaurant and, after the aperitivo, opt for a dinner in the same place or in one of the many typical restaurants and pizza places nearby.
Italian tapas it's a tapas bar where traditional Spanish dishes are reinterpreted and adapted to the Italian cuisine. They also serve their own home-made sangria, delicious!
If you are looking for something more unusual, then head to Rasputin, a speakeasy bar hidden in one of the narrow streets surrounding Sant Spirito square. You will need to pre-book and also get a password for admittance. Exciting, isn't it?
San Frediano district
Between Santa Croce and Santo Spirit districts, on the opposite side of Arno river, lays San Frediano neighborhood, which is considered the coolest area in town according to many tourist guides. While checking out things to do in Florence and deciding where to spend your time in the city, you should definitely opt for a visit to this area, before and after the sunset.
Nightlife in San Frediano is an absolute blast and having a great time here couldn't be more easy.

Check out the many trattorie (typical local restaurants) in the area as well as some interesting fusion restaurants like Momoyama and the first Sake bar in town, Kawaii.
Original cocktails and unique drinks can be found at the insta-friendly Mad Souls & Spirits. After taking few catching pictures while sipping on a cocktail, you can head to the nearby NoF and enjoy a nice concert. Right opposite this venue you can find La Citè Library, one of the first book shops in Florence combining literature with live music and a bar.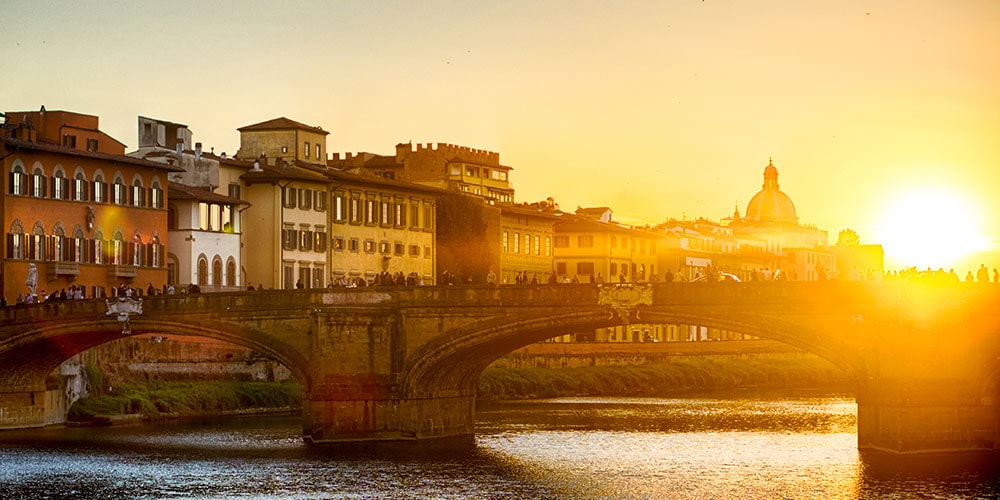 Rooftop bars in Florence 
A special mention goes to the amazing terraces opening in summer time in Firenze. The whole Florence center features many scenic rooftops (like the one in our hostel) and checking out some of the many open airy bars is definitely one of the things to do in Florence. Sip on a tasty Aperol Spritz and soak in the breath taking view while waiting for sunset, you are going to love it!